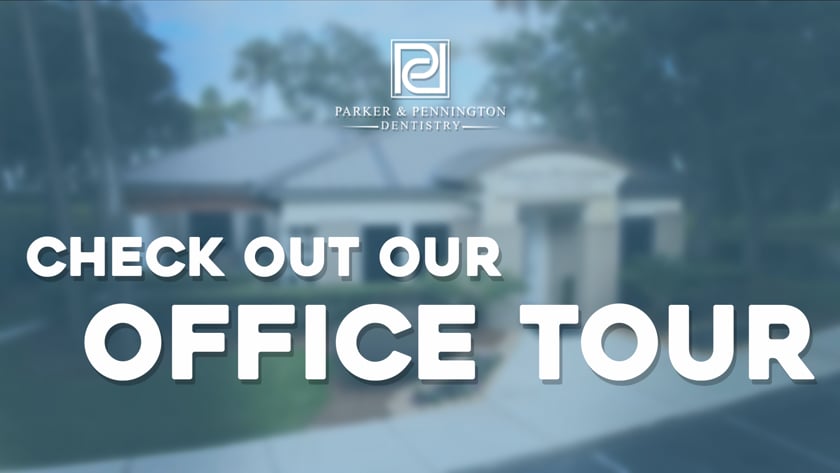 At Parker and Pennington Dentistry, located in beautiful Jacksonville Beach, FL, we want our patients to feel like they are stepping into our dental home. Our goal is to have each and every patient feel welcome and comfortable from the moment they step through the doors until the moment they leave. We know that many new patients may have nervous feelings before visiting our office for the first time. To help everyone feel more comfortable, we want to take a moment to share a special video that gives you a tour of our office. Click here to watch the video.
Welcome to Our Dental Home
From the moment you enter our office, you can see from the video that our waiting room is not typical of other dentist offices you may have visited in the past. We have comfortable chairs and a couch that you might find in your own living room. As you move into the examination rooms, you can see that we offer a water-front view that is not only beautiful, but also helps many of our patients relax. Aside from what you see in the video, we also offer patients pillows, blankets, and noise-canceling headphones to give the feeling of relaxing at home.
State-of-the-Art Technology
As you can see from the office tour, we use a number of state-of-the-art technologies to offer the very best of care to our patients. The large monitors allow our team to explain various digital images and help us walk patients through the need for certain treatments. We also have various scanners, cameras, and other dental equipment to assist in our goal of providing comfortable treatments.
We hope that you enjoyed taking a tour of our office! Not only is our office beautiful, but our dedicated team has personalities to match. Each and every member of the Parker and Pennington Dentistry team truly cares about our patients. If you or a loved one is located in the Jacksonville Beach, FL area and in need of a new dental home, we would love to welcome you to our practice. Be sure to contact us to schedule an appointment. We look forward to seeing you soon!